simply corner forming: THE ORIGINAL
NO welding

NO grinding

Improve your production process for corner forming in various materials with our corner former machine ACF CORNERFORMER.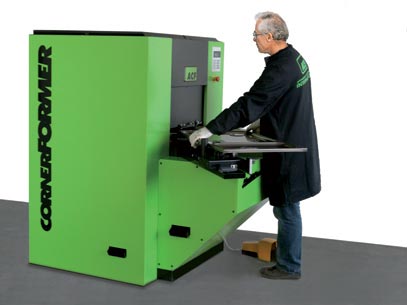 ACF CORNERFORMER – Multiflex (patented) / Coverplate for gas-stove (Mild Steel)This new flexible corner forming machine makes corner welding obsolete. It offers completly new opportunities in metal sheet production of doors, panels and road signs without welding of corners or grinding them.
Cold forming of corners for these applications in any formable material (Mild Steel, Stainless Steel, Aluminium,...) allow you to use nearly any material thickness in individual flange heights.
No size limitation of parts with corner former machine
Our sheet metal corner former machine is used throughout the world in the fabrication of different parts, as panels, doors or road signs.
The new tooling design allow to form corners in any flange height in connection with any material thickness up to 5 mm. The corner forming radius can be determined from 2 mm up to 100 mm. Special corner angles from 60° up to 150° are formable on our specific tools.
This means that any road sign shapes on the markets can be made in our corner forming machine:

quad
rectangular
triangle
octagonal
arrow road signs
By the huge number of different application possibilities of cold formed corners, our CORNERFORMER-Allrounder is used in the whole world for manufactoring different parts in any formable sheet metal.
Below these parts are:
doors for electrical cabinets
drip trays for air conditions
fire oven doors
road signs in any shape
(including octagonal shape and triangle
shape-even as beading machine)
trays

covers for communication equipment
covers for compressors
lids
cooking trays
bottom for vessels
ceilings

container covers
claddings
animal cages
any similar flat sheet parts
Why still do corner welding and grinding?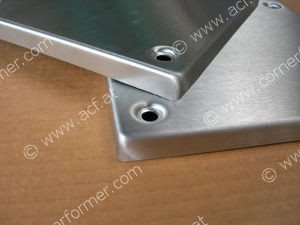 Much easier and more efficient than welding corners is using a corner forming machine. So why do you still weld and grind corners in sheet metal when this corner former machine is giving the best profit?
ACF CORNERFORMER always produces perfect corner quality in any type of sheet metal (Mild Steel, Stainless Steel, Aluminium, ...) at lowest cost level.
Especially for road sign production our aluminium corner rounder is perfect for machine beading at low cost level.
The different sizes of road signs do not influence the tooling cost. The corner forming- and corner finishing (including trimming) operation can be done easily on this machine.
In road sign production corner welding is not acceptable as beading machines for sheet metal in combination with corner forming machines giving a perfect solution. Our ACF CORNERFORMER is both in one. A bead making machine is connected to a corner forming machine. It is rather useful as the different tools are reasonably cheap.
The life time of our flexible tools is very high. Forming corners with the ACF CORNERFORMER is significantly more efficient, as producing corners in sheet metal by welding. Check the facts and forget corner welding and grinding!


www.cornerformer.com