Corner rounding and finishing by using the ACF CORNERFORMER for flat sheet metal is easy and flexible for:
any formable material
thickness of material (from 0,5 mm up to 5,0 mm)
flange height of road sign / door / panel
No part size limitation!
Design profiles of cold formed corners
| | |
| --- | --- |
| | Corner angles: minimal 60° to maximum 150° |
| | Corner radius: minimal 2 mm up to 100 mm |
| | Corner notchings: after corner forming |
| | Special corner designs |
Advantages of corner finishing by ACF machine
The advantages of machine-finished corners in formable flat sheet metal, compared to welded and grinded corners, are as follows:
Excellent and always consistent corner finishing in best quality of cold formed corners
Extensive time savings through simplified door production process
      (reduction of manipulation and intermediate storage)
Cost savings through higher output, reduced personnel, elimination of abrasives and welding consumables
Specific advantages are given through corner forming in:
Mild Steel - galvanized
Zinc coating is pressed into the material through cold corner finishing and therefore the surface
is better protected against rust, even without paint protection.
No zinc spray, no manual zinc coating necessary.
Mild Steel - for porcelain enamelling
The corner finishing is resistant against high temperature (higher than 960°)
Smooth corner finishing surface gives best porcelain enamel coating flow and consequently highest quality in corner forming area.
Stainless Steel - any specification
No change of colour on material surface and therefore no pickling
Grinded surface is harmonically shaped and perfectly visible in the corner area
The flexible ACF corner finishing machine for flat sheet metal allows the production of below parts efficiently: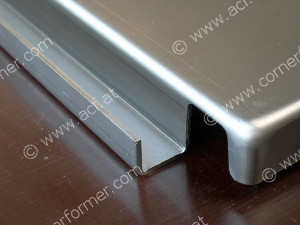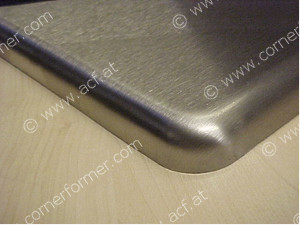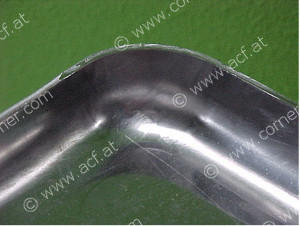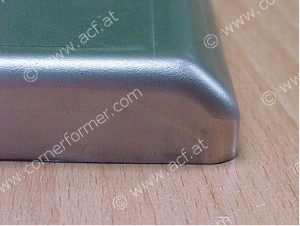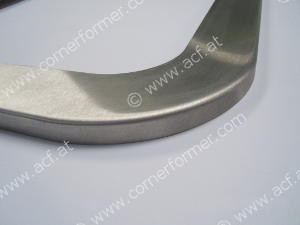 Our corner finishing machine is a special bead making machine. Small corner sizes from 2mm - 100mm can be produced easily with specific tools.

Based on this background, beading by machine, with the advantages of corner finishing as combined system, is very attractive and flexible within:
material thickness
size of road signs
shape of road signs (quad / rectangular / triangle / octagonal)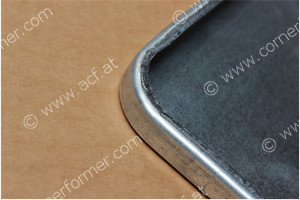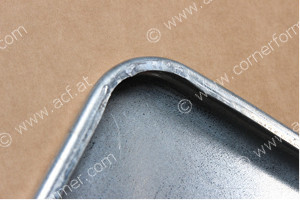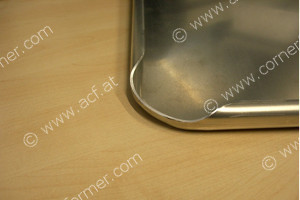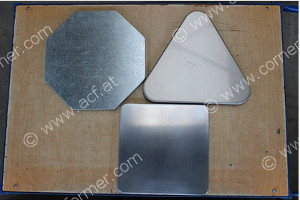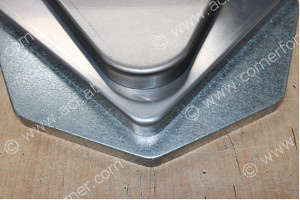 Lifetime of our tools are longstanding. The tooling costs are low. Short cycle times for any shape of road sign is an attractive additional benefit.
 
The ACF corner finishing machine in combination with bead rolling for large corner radius allows the production of road signs in different materials and different shapes efficiently.

Information about the ACF corner finishing machine in connection with bead forming is available.