The ACF CORNERFORMER is a corner rounder machine at it´s best! It is the perfect device for mechanical and flexible corner forming in any formable material.
To explain the efficiency of our corner rounding machine please see the following cycle times:
corner rounding and cutting a corner (cycle time): approximately 8 seconds
Handling time of a door / corner for corner rounding (base size 500mmx500mm): approximately 52 seconds (ready for painting)
The round corner machine is the key for the redesign of your parts.
Use our experience to your advantage!
The corner machinery series ACF CORNERFORMER - Multiflex MF 25/50/100 is the perfect solution for flexible suppliers and job shops. A new adjustable tool-design allows individual and quick corner rounding in door and panel production. Specifically developed for changing requirements of job shops and large productions.
For road sign manufacturers:

Corner rounding in any size of signs is possible – in rectangular, quad, triangle and octagonal shapes

For mass production:

ACF CORNERFORMER - Variform (high speed corner rounding)
Customer specific fix-tool design allows highest volumes by lowest cycle time.

For robot automation:

ACF CORNERFORMER can be connected with any robot system (linear robot or arm robot)
                               MBC-CUTTER designed for any additional notching shape in the corner area
Formable sheet steel
Mild Steel (including galvanized, pre painted, plastic covered): 0,5 mm - 5,0 mm
Aluminium: 1,2 mm - 5,0 mm
Stainless Steel: 0,5 mm - 3,0 mm
Using a flexible corner rounder machine means:
No welding, no grinding

- but profitably forming corners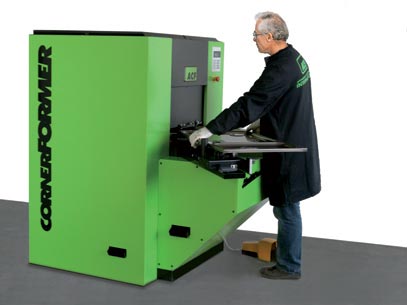 Corner rounder machine for sheet metal: flexible and effective
Our sheet metal corner rounder machine is effective even for always changing requirements as well as for mass production.
This CORNERFORMER is a kind of trimming beading machine. It is especially useful for job shops as well as for large scale production. Corner finishing within seconds without corner welding problems.

Perfectly corner finishing in many different thicknesses and in any flange heights are simply possible through manual change of variable tools on our corner machinery.

Different corner applications can be adjusted easily through the change of flexible tools on our sheet metal corner machinery.
It provides nearly unlimited technical possibilities especially the freedom of part sizes. No need of expensive press tools anymore.
For special applications: High-Speed CORNERFORMER - Variform
For specific applications we deliver our high speed CORNERFORMER – Variform. This is a special round corner machine with fix-tool design allowing highest volume door and panel production at shortest cycle time.
Cycle times for processing sheet metal are:
forming and cutting a round corner: less than 3 seconds
production time of a door (based on size 500mmx500mm): approximately 40 seconds (including handling) - ready for painting