Why do you still weld, if your corners could be formed cold? The flexible ACF CORNERFORMER Multiflex is a sheet metal corner rounder which provides the best solution for cold rounded corners in doors, panels and other flat sheet metal parts in a consistent perfect quality.
The new machine series MF25/MF50/MF100 is available as stand alone machine or in connection with notching units as well as manual operated or handled through robots (hand robots or linear robots).
Flexible universal tool for individual corners
The ACF technology gives high flexibility in cold rounded corners in any formable flat sheet metal, independent from:
material
material thickness
flange height of panel
The ACF CORNERFORMER is not limited to the size of your flat sheet metal parts.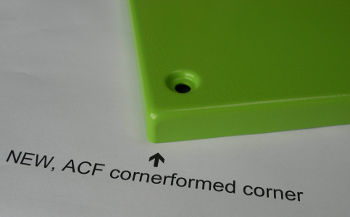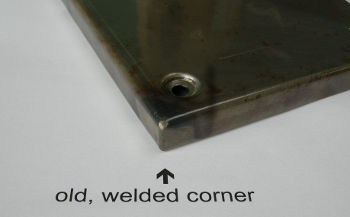 The flexible ACF sheet metal corner rounder solution is the best solution for cold formed corders in:
Doors for electrical cabinets/switch gears/enclosures including any sealing profile notchings
Special electrical cabinet doors for food production
Covers for PB-boxes
Special doors and parts for underfloor-elctrical cabinets in highspeed trains
Panels
Ceiling elements - interior
Claddings - exterior on buildings
Box covers/wall parts
Trays
Draws
Design-elements for kitchen and elevators
Bottoms for vessels and boilers in chemical industry and food industries
Drip trays for air conditions
Road signs in any size and shape
Name plates
Building signatures
Signatures for Underground railway stations (including porcelaine enamelling surface)
Cover elements for machines
Oil-tank elements
Rack elements
Mailbox doors and elements
Fire oven doors
Front doors for cookers and pizza ovens
Parts for gas ovens
Cooking trays
Doors for nostalgic design fire ovens
Kitchen rear elements
Interior and door-elements for hospitals
Elements for clean rooms
Covers for radiators and infrared heating elements
Doors for Caravans
Interior elements for cooling equipment in supermakets
Covers for heating elements in trains
Heating elements for swimming pools
Covers for air conditions
and other similar parts with rounded corners